Good afternoon everyone.
Well it's been scorching temperatures
and Wimbledon has started. Can't be bad.
Today sees the start of a new challenge at
This months sponsor is Crafty Ribbons and the theme
is Anything Goes.
Here is a little bit about our sponsor.
"
If you buy any more ribbon, you will have to sell some to get the money"
This chance remark in 1996 was the catalyst that prompted Ali to start Crafty Ribbons, which she runs together with her husband Tony. Crafty Ribbons aim is to offer ribbon lovers and crafters a wide, varied and interesting choice from some of the worlds best ribbons, at affordable prices. We also design and manufacture our own range of ribboncraft kits, including ribbon embroidery, weaving, mitred patchwork, teddy bears, and cushions.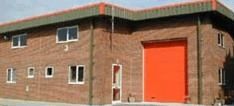 Crafty Ribbons operates out of its own modern warehouse building, situated on the outskirts of Blandford Forum in Dorset, England. It is an Aladdins cave of delights. We believe that down Tin Pot Lane is probably to be found one of the finest collections of ribbons available.
Primarily we sell our ribbons from comprehensive displays, on stands at the major retail shows in the UK and France associated with hobbies and crafts, including sewing, knitting, needlecraft, embroidery, quilting, card making and scrapbooking.
So welcome to the wonderful and versatile world of ribbons - silks, satins, sheers, ombres, wire edge and much much more - A true Ribbon Emporium.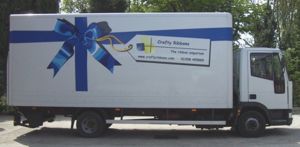 The Crafty Ribbons lorry... probably one of the largest wrapped parcels ever. If you see us out and about, give us a wave!
The prize is some ribbons.
And if you don't have your own blog , don't worry , remember we have a Facebook Page for
For my project I have used a House Mouse stamped image.
I hope you can join in the fun and good luck.
Thank you for popping by.
x